Assignment: BMORE Than The Story
Students from a West Baltimore high school and the Univ. of Maryland College Park co-design this exhibit, which addresses police brutality, stereotyping, violence, and the one-sided media portrayal during the 2015 Baltimore Uprising.
See some of the behind the scenes process.
Client: The Reginald F. Lewis Museum of Maryland African American History and Culture
Awards: The project received awards from the Core77, Design Incubation, the American Advertising Federation, and City Paper's 2016 Best Of Baltimore.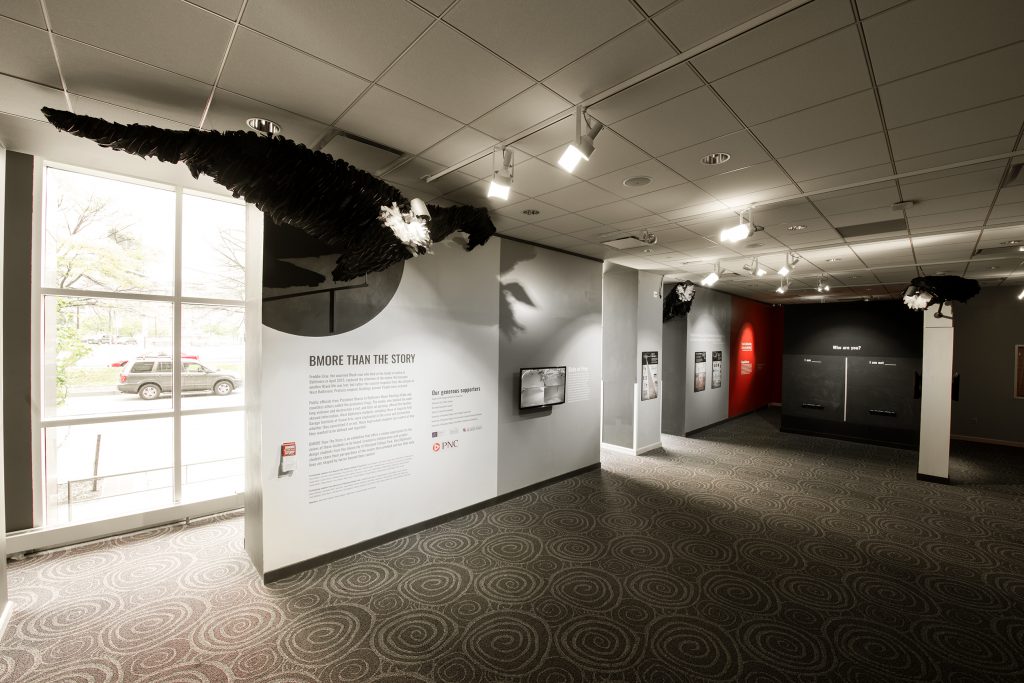 The students created different components to address the salient issues in their lives: feelings of being constantly surveilled and under watch by police, the one-sided media portrayal of the youth, police brutality and how society stereotypes them.
Vultures: a carnivorous bird that scavenges the skies and land searching for dead or dying prey in which to feast upon.
The AFSIVA students saw little difference between these winged predators and Baltimore's police helicopters, which to them are always watching, always searching for that next meal.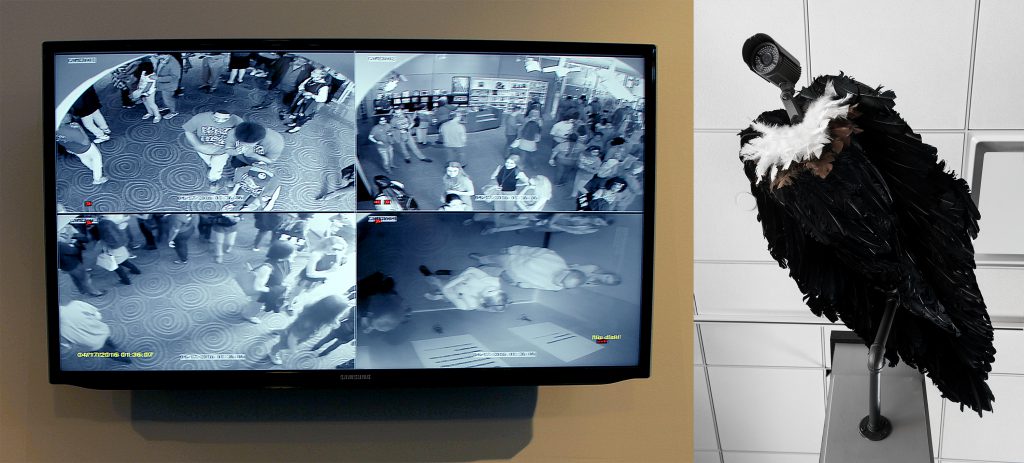 The four vultures installed in the space have functioning security cameras as their heads. A large-screen monitor installed in the space broadcasts the feed from the cameras. Exhibit visitors are surveilled as they explore the space, mimicking how the students feel they are under constant watch by police.
The students created a 25-foot timeline, which runs from 1960s to present day, listing the names of approximately 1,350 people of color who have died while in police custody. Historical, political, and economic events, noted in the circles, provide context for the timespan.
These posters offer the AFSIVA students an opportunity to rebut those stories. They show quotes from a Baltimore Police Spokesman, the Baltimore Mayor, and media personalities about the youth and the Uprising. Augusta Fells students countered those responses with their own, written in clear day-glow paint.
Visitors shine provided blacklight flashlights on the posters to view how the students refute these sentiments.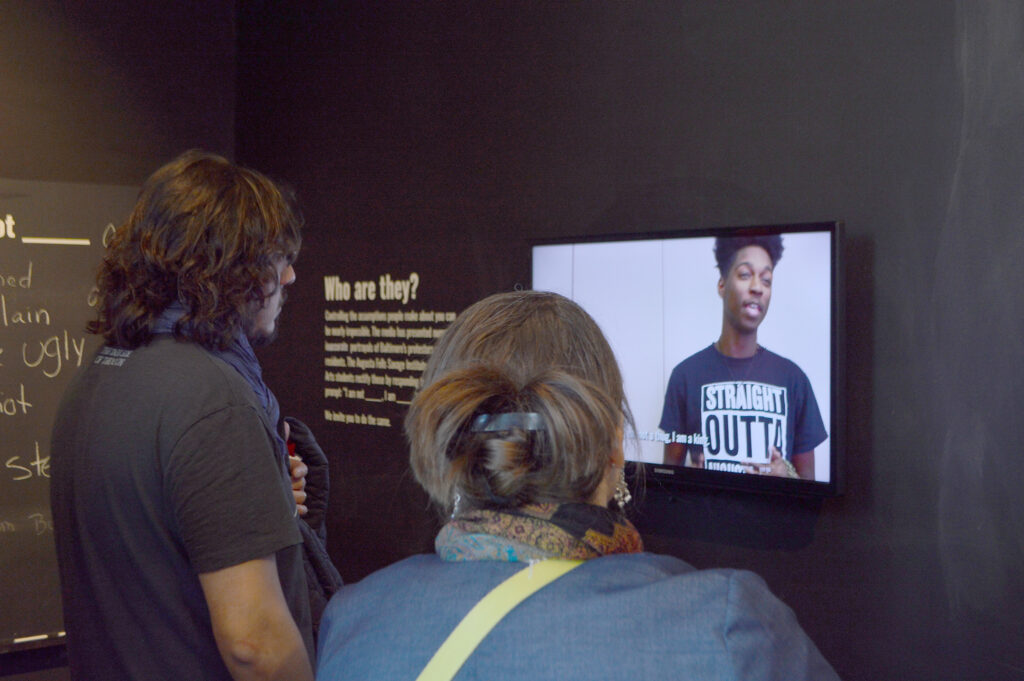 In this video the high school students addressed the aspects of their identity that are important to them and defy stereotypes.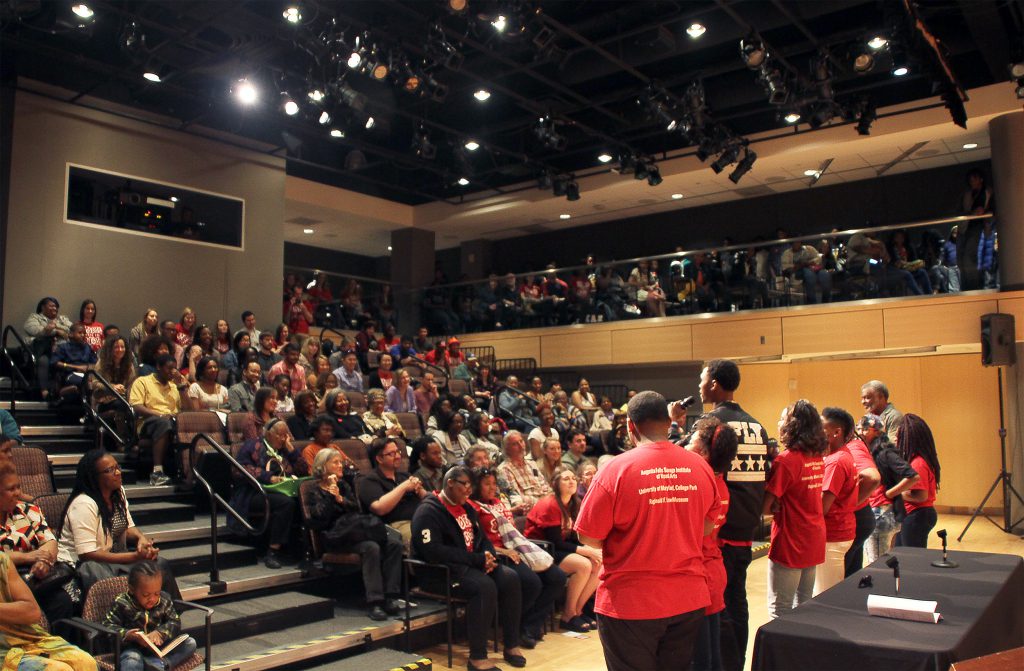 During the exhibit opening, the AFSIVA students treated the audience to spoken word, socially conscious rap, and a cappella singing to address issues of social inequity to convey their ideas for healing, understanding, and hope.
After the performance, the collaborators and local activists participated in a panel discussion about the project and ways to address Baltimore's chronic issues.
The exhibit received wide media coverage.